November 1-2, 2017 at the O'Hare Hilton
"The ability to exchange ideas openly and honestly in a non-competitive environment is one of the reasons I look forward to attend NAW's Large Company CFO Roundtable. I always leave these meetings with new ideas to improve our business. The group is relatively small which encourages participation from everyone in attendance."
Anonymously Submitted by the VP of Finance of a $550 Million Distributor
Click here to reserve hotel accommodations
Eligibility: Companies with $100M to $1B in annual revenue
The NAW Large Company Roundtable is the only opportunity that provides networking and benchmarking exclusively with other top executives of non competing, like-sized Wholesale-Distribution companies.




*For further details about sponsoring this Roundtable, contact Adam Isenberg at aisenberg@naw.org

The NAW Large Company CFO Roundtable for direct members was created as a new mechanism for the financial executive of large distribution enterprises to network with non-competing peers in multiple lines of trade on key operations issues.
This by invitation roundtable is composed of executives from large companies that meet in Chicago two times per year and is highly interactive. The annual fee is $1,500 per member, which covers meeting costs for two events in a twelve month cycle. Participants are expected to cover the cost of their hotel and travel. Once the annual fee is paid, there are no additional fees to attend the meetings, which will last one day beginning with a reception and dinner the evening before.
The participating companies can also name a senior level alternate who can take the place of the finance executive, should that person be unable to attend the scheduled meeting.
If you would like to join the group please go to this link:
Become a Large Company CFO Roundtable member. Click here.
If you would like to learn more please contact John Peter, Adam Isenberg or Tara Mostatab at 202.872.0885.
NAW Large Company CFO Roundtable
Agenda
November 1, 2017 – Day 1
2:30 PM – 3:00 PM
Registration
3:00 PM – 4:30 PM
Opening Session & Discussion
"Don't Leave Just Yet – Employee Retention Strategies for Distribution CFOs"
Mary Lynn Fayoumi, CAE, SPHR, GPHR, President & CEO, Management Association
In 2020, millennials are set to surpass baby boomers as the largest segment of the workforce. However, several of them think that they can "create their job" with an App or a "disruptor" versus charting a career path within an exciting business. Distributors are in a tough spot because they might not have the "cool" office space of a Google or Apple, don't offer yoga or "bring your dog to work day," and telecommuting/flexible hours are hard when you need supplies shipped and trucks unloaded and reloaded. So where are we going to find the "stars of tomorrow" without alienating our current workforce?
This session will focus on ways for distribution leaders to spend their time (and money) effectively recruiting and retaining the next generation of superstars while not turning off your current workforce.
Takeaways:
Industry leading ideas on where is the best place to recruit new employees
Top ideas on ways to keep your current employees engaged and energized about your firm
Was to "tell your story" from the inside out
Best practices in highlighting where to go to find the employees you need
4:30 PM – 6:00 PM
Break
6:00 PM – 7:00 PM
Reception – Drinks & Dialogue
Come prepared to meet and mingle with your fellow participants from the largest firms in the industry.
7:00 PM – 9:30 PM
Large Company Executive Dinner
"NAW Fall 2017 Government Relations Update"
Jade West, SVP-Government Relations, NAW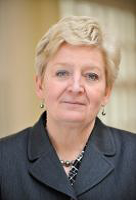 For over 20 years, Jade West was a staple in the U.S. Senate. For the past 10 years, Jade has helped educate lawmakers on how certain legislative policies could impact true economic engines such as wholesaler-distributors. From stopping the repeal of LIFO, to tax and labor initiatives, Jade has been out front and leading the charge on Capitol Hill to benefit the entire $5.6 trillion industry that is wholesale distribution.
Make sure to attend the most exclusive executive supper club in Chicago this evening! This dinner is your opportunity to pick the brains of the senior executives for the top wholesale distribution companies in the industry.
November 2, 2017 – Day 2
7:00 AM – 7:45 AM
Breakfast
8:00 AM – 9:30 AM
Opening Session & Discussion
"Overrides & SPAs – What is it Costing You?"
Richard Blatcher, Senior Industry Solutions Manager, Pros
Distribution firms continue to struggle with Overrides and Special Pricing Authorizations (SPAs) despite efforts to reduce their frequency, streamline the process, and create uniform standards. It's difficult today for distributors to realize organic growth, expand the share of wallet and widen margins. Distributors must move from manual to digital, and static to dynamic – and internalize the ability to quickly and profitably respond to and even anticipate customer needs. In this environment, pricing is a key strategic lever and is far more effective in affecting margin than cutting costs.
This session will examine the fundamental issues that are still hindering these processes and promote a dialogue between large distribution CFOs on these concerns, solutions & next steps.
Takeaways:
Actionable items to help CFOs overcome margin leakage
Best practices in dealing with Overrides & SPAs
Examples of the cost of not having a dynamic process in place
9:30 AM – 9:45 AM
Break
9:45 AM – 11:00 AM
General Session & Discussion
"How Costly is A Cyber Attack? – What CFOs need to know about Cybersecurity"
Michael Lucas, Senior Manager, Crowe Horwath, LLP


Because technologies continue to change at warp speed, it is increasingly difficult for "good guys" to keep up or try and stay ahead of the "bad guys." Also, it is not a good business practice to keep throwing money at a problem in the hopes that it changes. A wise man once said that "doing the same thing over and over again but expecting different results is…insanity." So what is a distribution CFO to do?
This session will focus on practical solutions to such cyber security threats as Ransomware and anti-virus failure for distribution CFOs.
Takeaways:
What new and adaptable solutions are in the market for cyber security
Ways to identify if you are vulnerable to a potential cyber attack
Best practices on what strategy CFOs can deploy within their firms for an immediate ROI
11:00 AM – 12:00 PM
Open Discussion
This session is set aside for you to raise any issue you would like and have the group provide their thoughts. This is an open forum to further discuss any item on the agenda or to bring up topics that are not on the agenda. Make sure to take notes during this session, you may find a perfect topic to suggest for the next NAW Roundtable.
12:00 PM – 12:45 PM
Joint Lunch & Networking Discussion with Operations Roundtable
This is the "halftime" period where you meet up with all of the Large Company senior executives at this week's Roundtable to compare ideas and benchmark across disciplines. Both the CFO and Operations executives will attend this joint lunch.
1:00 PM – 2:00 PM
Closing Session & Discussion
"Data Integrity"

Greg Woodard, Principal, Solve


Data Integrity is defined as "the maintenance of, and the assurance of the accuracy and consistency of, data over its entire life-cycle, and is a critical aspect to the design, implementation, and usage of any system which stores, processes, or retrieves data."
During this interactive session, we will discuss the differences between data quality and data integrity and touch on data governance.
In most companies, multiple systems exist.  Ensuring data integrity across systems and throughout the entire reporting and analytics process, especially when Excel is involved, is challenging.
This session will focus on best practices for CFOs to ensure data integrity and ways to address data quality.
Takeaways:
Industry benchmarks related to Data Quality and Integrity
Gain a better understanding of how to approach data integrity and quality issues within your organization
Solutions for CFOs to provide reporting and analytics while ensuring data integrity
2:00 PM – 2:30 PM
Set Agenda for Next Meeting Scheduled for May 1-2, 2018
Registration is now open for the Large Company CFO Roundtable