November 1-2, 2017 at the O'Hare Hilton
"NAW's Large Company Operations Roundtable lets me network with other wholesale operations professionals, across different industries. Regardless of the industry we serve, as a wholesale distributor, we face the same challenges, opportunities and changing technologies. Learning from one another's successes and failures-turned-successes, and sharing this information is extremely valuable. I enjoy the size and dynamics of the group and plan on attending future meetings."
Anonymously submitted by the VP of Operations of a $794 Million Distributor

Click here to reserve hotel accommodations
Eligibility: Companies with $100M to $1B annual revenue.
The NAW Large Company Roundtable is the only opportunity that provides networking and benchmarking exclusively with other top executives of non competing, like-sized Wholesale-Distribution companies.

*For further details about sponsoring this Roundtable, contact Adam Isenberg at aisenberg@naw.org

The NAW Large Company Operations Roundtable for direct members was created as a new mechanism for the Operations executive of large distribution enterprises to network with non-competing peers in multiple lines of trade on key operations issues.
This by invitation roundtable is composed of executives from large companies that meet in Chicago two times per year and is highly interactive. The annual fee is $1,500 per member, which covers meeting costs for two events in a twelve month cycle. Participants are expected to cover the cost of their hotel and travel. Once the annual fee is paid, there are no additional fees to attend the meetings, which will last one day beginning with a reception and dinner the evening before.
The participating companies can also name a senior level alternate who can take the place of the operations executive, should that person be unable to attend the scheduled meeting.
If you would like to join the group please go to this link:
Become a Large Company Operations Roundtable member. Click here.
If you would like to learn more please contact John Peter, Adam Isenberg or Tara Mostatab at 202.872.0885.
NAW Large Company Operations Roundtable Agenda
November 1, 2017 – Day 1
2:30 PM – 3:00 PM
Registration
3:00 PM – 4:30 PM
Opening Session & Discussion
"Linking KPIs to Operational Cash Flow and Profitability"

Bill Albert, President – Business Methodologies International, Ltd.

KPIs are something that distribution professionals have come to lean on. They are invaluable in measuring the value that demonstrates how efficiently a company is achieving critical business objectives. Distribution firms today use KPIs to evaluate their success at reaching targets. But how do you know if your KPIs are "meaningful" and moving the needle?
Takeaways:
To share some quantifiable measures, Key Performance Indicators 'KPI's' that can be applied to determine their own organization's progress in achieving key strategic or operational goals.
Identify those Key Performance Indicators 'KPI's' that can be applied to defined business processes; setting requirements for those business processes and have qualitative and quantitative analytics of results for those participating in the session
The ability for those participating to share with their workforce and organization to appreciate the roles, responsibilities, and impact they have on those Key Performance Indicators "KPI's' in determining the success or failure of their organizations.
4:30 PM – 6:00 PM
Break
6:00 PM – 7:00 PM
Reception – Drinks & Dialogue
Come prepared to meet and mingle with your fellow participants from the largest firms in the industry.
7:00 PM – 9:30 PM
Large Company Executive Dinner
"NAW Fall 2017 Government Relations Update"
Jade West, SVP-Government Relations, NAW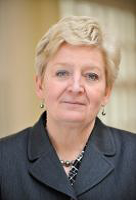 For over 20 years, Jade West was a staple in the U.S. Senate. For the past 10 years, Jade has helped educate lawmakers on how certain legislative policies could impact true economic engines such as wholesaler-distributors. From stopping the repeal of LIFO, to tax and labor initiatives, Jade has been out front and leading the charge on Capitol Hill to benefit the entire $5.6 trillion industry that is wholesale distribution.
Make sure to attend the most exclusive executive supper club in Chicago this evening! This dinner is your opportunity to pick the brains of the senior executives for the top wholesale distribution companies in the industry.
November 2, 2017 – Day 2
7:00 AM – 7:45 AM
Breakfast
8:00 AM – 9:30 AM
Opening Session & Discussion
"Vendor Relations Management"
Shari Schlau, Resin Gelcoat Supply Chain Manager, Composites One


Wikipedia defines Vendor relationship management (VRM) as "a category of business activity made possible by software tools that aim to provide customers with both independence from vendors and better means for engaging with vendors. These same tools can also apply to individuals' relations with other institutions and organizations." But really, what does that mean? How are distributors supposed to know which VRM is right for them? In this session, lead by a distribution executive, participants will be able to uncover the secrets to what a good VRM is, how to make your buyers more knowledgeable, see trends/managing inventories between locations and maximize freight.
Takeaways:
Discuss best practices in selecting VRMs
Hear how one of your own went through a VRM selection process and what ROIs they came out with
Understand how distributors can negotiate better quality, lead times, etc…from their suppliers
9:30 AM – 9:45 AM
Break
9:45 AM – 11:00 AM
General Session & Discussion
"'What's the Weather Today?' – Specific Forecasting Tools for Distributors"
Tim Howard, Reinforcement Supply Chain Manager, Composites One
When most of us think of Forecasting, wouldn't it be nice to say, "Hey Siri…What's the forecast for today? That said, distributors are in a tight spot when it comes to forecasting. Does your ERP system perform this function? A CRM perhaps? Neither? Both? During this session, members of the Roundtable will be hearing from a distribution executive who has gone through this very exercise and live to tell about it.

Takeaways: 
Understand key elements of forecasting and how this intelligence can help manage and replenish inventory, purchase history, customer intel, and supplier knowledge
Receive best practices in what solutions distributors are coming away with from accurate forecasting
11:00 AM – 12:00 PM
Open Discussion
This session is set aside for you to raise any issue you would like and have the group provide their thoughts. This is an open forum to further discuss any item on the agenda or to bring up topics that are not on the agenda. Make sure to take notes during this session, you may find a perfect topic to suggest for the next NAW Roundtable.
12:00 PM – 12:45 PM
Joint Lunch & Networking Discussion with CFO Roundtable

This is the "halftime" period where you meet up with all of the Large Company senior executives at this week's Roundtable to compare ideas and benchmark across disciplines. Both the CFO and Operations executives will attend this joint lunch.
1:00 PM – 2:00 PM
Closing Session & Discussion
"Tech Platforms for Distributors"
David Panitch, President, Results Technology Group


When it comes to tech…distributors have EVERYTHING figured out. Right? During this interactive session we will explore ERP systems and their impact on your operation. You will hear about the good, the bad, and the ugly of ERP implementations. With technology evolving exponentially, it is difficult to keep up with all of the changes and more importantly, determining which technology should be pursued and which ignored.
Takeaways
Learn what you must ask your current or future ERP software solution provider before signing contracts.
Gain a better understanding of the risks and rewards of deploying your next ERP system in the "cloud".
Understand how to identify the critical path tasks in your ERP project to increase the odds of a successful implementation.
2:00 PM – 2:30 PM
Set Agenda for Next Meeting Scheduled for May 1-2, 2018

2:30 PM
Adjourn
Registration is now open for the NAW Large Company Operations Roundtable